Some Classical Keyboard Improvisations by Stephen Foord
This page offers some examples of my keyboard improvisations. The analysis of such improvisations led to the theory of
'Spiritual Relativity in Music'
in book 1:
'Classical Improvisations' : an album by Stephen Foord
This cover image links to an album of classical keyboard improvisations with extracts. It includes two 2 part improvisations.

I began to teach myself to play the piano as a Phd. student in biophysics at Bristol university. I learnt passages from Mozart's 21st concerto off by heart showing a good memory for physical movement but little aptitude for sight reading. Whilst thinking of research problems I would run off memorised passages for expression rather than to achieve formal discipline. That may be the ideal training for learning to improvise.
In a period of stress a gift for improvisation asserted itself. It was cathartic. On recording a few pieces an original composer's voice became apparent. Improvisations may be spiritually directed or conducted according to my theory of music in the book 'The General Theory of Reality' described here. Personal spiritual company may influence every composer's music In a similar way to how room acoustics can influence musical expression. In 1991 I was referred to the R.N.C.M. where I learnt that my improvisations have a resemblance to French composers for organ associated with Messiaen (track 7 may illustrate) or, where spacious and sonorous, to American composers such as Barber and Copeland (track 12 perhaps). I was unable to pursue the gift due to demands of an earlier calling to straighten the foundations of physics also described in the book.
I hope one day to achieve favourable conditions to explore the gift more fully and to find friends who would like to help score and publish some pieces for the classical repertoire.
This album sequence may have stress relief properties.The first few pieces were selected to help free me from the stress of insomnia. These pieces were recorded on midi virtual instruments for reasons of financial economy. The opus number ends in 'm' to indicate the number ranks its place in a series of midi recordings. The piano sound is the American Grand of the Synthogy Ivory software except for the first track which uses a Vienna software piano. The wind instruments are Vienna software. The Vienna Mir reverberation engine sets a stage for the instruments except for the piano clarinet ensemble which uses the Quantum Leap Spaces reverb.
Video of the improvisation of opus 1813m in C Major.
This is a
youtube video
of me improvising at a Yamaha P140 midi keyboard October 2012. The fantasia ends in C major and the piece is number 1813 of my midi-piano-roll pieces. Analysing improvisations like this led to the theory of music in book 1.
An early tape of pieces when I had access to real instruments, 1991, was assessed by Robert Elliott, director of keyboard studies, RNCM. He said there was a resemblance to music of French composers for organ associated with Messiaen, or where spacious and sonorous, American composers such as Copeland or Barber. I prefer real instruments.
With virtual instruments I find a tendency to lose concentration so that a piece falls into a familiar tune losing its independence. In this piece it might seem I was concentrating on what to play next. In fact, I was trying very hard not to let the piece be taken over by a popular tune that had taken over a number of previous pieces, It is much easier to avoid that with a real piano.
This midi-piano-roll improvisation begins with a single note originally meant for synchronisation purposes followed by a long rest. I found that note seemed part of the composition so I have not edited it out. The piano sound is a Synthogy Ivory sample on a computer fed by midi output of the P140.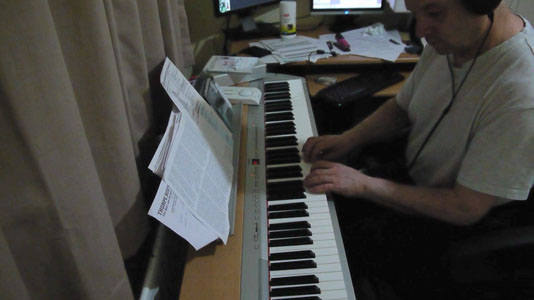 My midi improvisations began on a Yamaha DGX 200 keyboard
The audio player below offers three pieces composed on a Yamaha DGX 200 midi keyboard. They include 2 four part improvisations.
Opus 529m: Piano Dream voice

Opus 189m 4 parts. First flute then oboe, clarinet and last basson.

Opus 183m 4 part improvisation. First clarinet then violin, flute and last piano.
Your web browser does not support HTML5 audio. Please update to a newer web browser.